Messianic Consciousness Blog
Table of Contents
Kabbalah based observations on current social and global phenomena
The Messianic Role of the Proliferation of Domestic and Wild Pets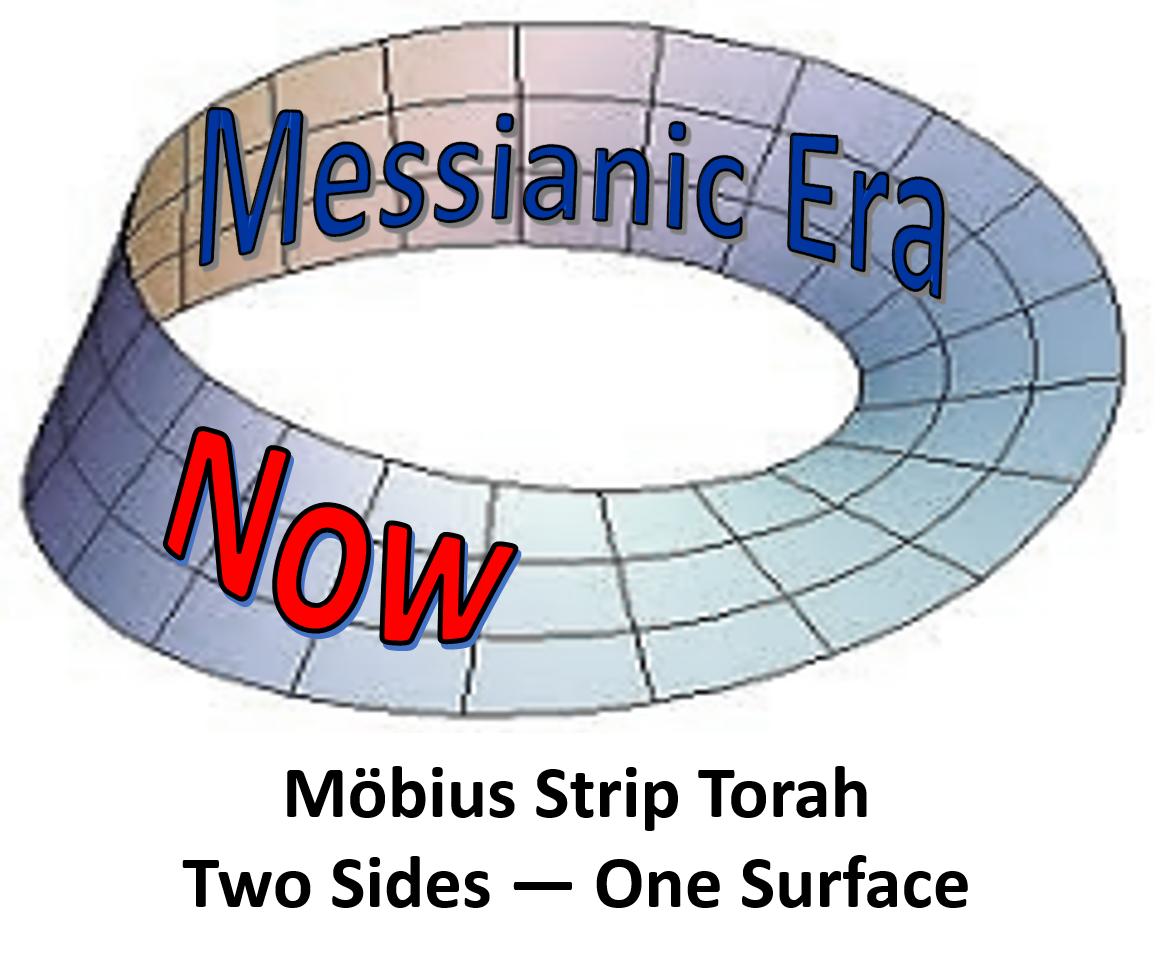 Kabbalah based observations
on current social and global phenomena.
The social and global observations in this blog are unexpected and counter-intuitive. They follow, however, a rigorous logic and spiritual esthetic. Kabbalah based Torah, as explained in Beyond Kabbalah – The Teaching That Cannot Be Taught, subsumes that the entirety of reality—including that of the Divine Itself—plays itself out upon a single surface, yet paradoxically containing two distinct sides. A model for this mode of perception is the Möbius strip. In Kabbalah there are no simple opposing opposites. Rather, by definition every event can only be the inversion of its own "other side". Thus, the same truth or event can manifest as its holy "convexity" or, if the same truth or event collapses in on itself, as its own "concavity". When a spiritual force, historical event, scientific discovery or new idea is destined to come into the world, it can come in consciously through the "front door" — its convex face — or unconsciously through the "back door" — its own concaved backside (Related to this teaching is also the very short but penetrating observation by the Gerer Rebbe entitled The Lost Gifts found in the Preface to Volume I of The Secret Doctrine of the Gaon of Vilna). The maps of Kabbalah reveal to us that aspects of the higher-dimensional, future Messianic Era are actually here right now! Totally unexpected and counter-intuitive, our generation is witnessing an overlapping of two otherwise distinct dimensions. As a hand in a glove the incoming higher-dimensional reality is literally wearing our lower-dimensionality. It is this cosmic "hand", with its multitude of multi-faceted fingers of messianic light, now protruding into our current reality that is fueling and animating many of the unprecedented and virtually unimaginable phenomena occurring in Western culture and throughout the world.
Additionally, the Davidic Messiah, ushering in the final Messianic Era, does not bring the higher-dimensional truth and light with him (and her – they are a married couple of course!). Rather, the higher-dimensional "future", in its entirety, is being seeded here now by the collective Josephic Messiah. The Davidic Messiah will then only need to rearrange and fully activate the scrabbled multitude of parts into a new reality. Then all the infinite pieces of the cosmic jigsaw puzzle of history and our current generation will be reassembled and "the whole will be far greater than the sum of the individual parts". This then will be the "New Torah" prophesied by the prophets and articulated by the sages (See The Secret Doctrine, Volume II, Chapter 3). In other words, all the lights, eternal truths and 3 C's of Consciousness (Ibid.) of the Messianic Era have been streaming into — and often flooding — our culture and consciousness through a covert and clandestine operation.
These lights, however, are well camouflaged. This is due to a law of lower-dimensionality which requires that "The shell always precedes the fruit". Additionally, in lower-dimensionality all things good are always, by definition in one way or another, mixed with all things bad. Yet, if one puts on messianic googles and can see the forest beyond the Tree (of Knowledge of Duality), it is possible to perceive fractals of the lights that are literally bursting upon us. This blog will attempt to show that the Ohr Ganuz — the messianic Light — is right here, right now, but coming in from among the last places we would think to look!
Warning! Read no further unless you are willing and able to suspend judgment of any kind — whether you be man or woman, Jew or non-Jew, Orthodox or secular. Here, we must be like professional doctors and therapists who, in our objectively to our clients, pass no judgment. How the laws and ordinances of the Torah apply or should apply in these matters are a different subject— the realm of Halachah. Here our immediate concern is not about what is morally, ethically, ecologically or politically correct or incorrect. Rather, the question is why these phenomena are occurring to the unprecedented and often unimaginable degree to which they are. Additionally, it is this ability to temporally suspend judgment that is crucial to develop the requisite messianic consciousness in order to prepare for the moment of "critical mass" when we and all reality will "flip the lip" into the next dimension. Now, let us take a few peeks at our generation from the higher-dimensional messianic future.
Some of the subjects to be observed and decoded:
The unprecedented proliferation of pets, both domestic and wild.
The ever increasing popular acceptance of homosexuality, lesbianism and transgender.
Science fiction and how, especially through movies and videos — how and why they are affecting us especially with movies like the Matrix series.
The unprecedented and admittedly out of control global proliferation and covert, if not overt, legitimization of pornography.
The worship of youth, youthfulness, and the growing obsession with anti-aging and longevity.
The recent Hollywood and television infatuation with zombies, vampires, X-Men, supermen, superwomen, transformers and Godzilla.
The historically unprecedented increase of Jewish/Gentile marriage — previously mostly Jewish men marring non-Jewish women, but now also the increase in Jewish women marrying non-Jewish men.
The Internet, Facebook, Big Data and even the messianic role of Google and search engines.
The recent unexpected increase in "religious" themed popular movies and TV shows such as Noah, Heaven is Real and God is not Dead, Resurrection and a slew of others that also that are predicated upon other-dimensionality and parallel universes.
Got more? Send them in and I will put them on the list!
Copyright © Joel David Bakst 2014
Your comments, questions and critiques are encouraged. Every comment is privately reviewed by Joel. When your comment is posted your email address is never displayed and, if you prefer, you can use any screen name you wish.
The Messianic Role of
the Proliferation of Domestic and Wild Pets
In the United States alone there are approximately 78.2 million pet dogs, 86.4 million pet cats and 5.3 million house rabbits. Aside from these common animals people also keep as pets ferrets, gerbils, hamsters, chinchillas, fancy rats, guinea pigs, canaries, parakeets, parrots, turtles, lizards, snakes, tropical fish, frogs, tarantulas and hermit crabs. Increasingly throughout American homes, as well as throughout the industrialized world, exotic and wild animals are competing to become "man's best friend". These animals include: Anteaters, foxes, deer, bobcats, cheetahs, jaguars, leopards, cougars, lions, ocelots, tigers, opossums badgers, minks, skunks, otters, monkeys of all varieties, raccoons, flying squirrels, groundhogs, hyenas and sloths. It is believed that more exotic animals live in American homes than are cared for in American zoos. In 2013 pets outnumbered children four to one in the United States.
Since the year 2000, a small but increasing number of jurisdictions in North America have enacted laws redefining pet's owners as "guardians". The cultural thrust behind this phenomenon has been characterized as simply changing attitudes and perceptions to actually working toward legal personhood for pets themselves. Granted that humans have always had pet dogs and cats and have had strong emotional attachments to these animals. And granted that aristocracy and individuals among the cultural elite in every generation throughout the world have had their share of caged lions, tigers and bears. It is, however, undeniable that regarding the interaction between humans and animals, we are witnessing a phenomenon that is unprecedented in world history.
Pets and other animals have been anthropomorphized with increasingly more human attributes. Soaring to new heights in our generation of Disney animated cartoon animals (E.g., Mickey Mouse – 1928), the entire animal kingdom has come alive. Animal preservation, animal research, animal rights and animal consciousness. Animals, to varying degrees and in varying ways, are increasingly being treated more and more like humans. Regularly appearing new scientific studies indicate that certain members of the mammal kingdom, e.g., dolphins, elephants, whales, monkeys and apes — even rodents, are revealing levels and aspects of intelligence that are simply amazing and not expected by the scientific community. (Additionally, I suggest that it may not simply be that we are only now "discovering" the intelligence quota of these animal but, in fact, animals as a whole may actually be evolving to higher degrees of consciousness that were not necessarily present until the last century, if not only in the last several decades. This observation would be in alignment with the conclusion below).
From the perspective of Messianic Consciousness these phenomena are not only expected in our Final Generation, but they are an absolutely intrinsic part of the messianic process. (As elaborated upon in The Secret Doctrine of the Gaon of Vilna and elsewhere any aspect of incremental evolution of reality and consciousness is part of the mission of the Josephic Messiah). The question: What are the spiritual roots of the growing "animal consciousness movement" that is rapidly accelerating in our generation?
The answer is both profoundly simple and simply profound. We know that the Torah, especially as understood in the Kabbalah School of the Gaon of Vilna, maintains that our present reality is literally teetering on the edge of time (and space, i.e. the edge of space-time). From the beginning of literary civilization (I.e., the last some 6,000 years) our reality has been in the time-based, historical period of the collective Josephic Messiah. We are about to "flip the lip" of time into the Davidic Messianic Era. In other words, we are about to witness the entirety of all 3D phenomena undergo a complete "re-inversion" back into our original higher-dimensional "4D" home. This is nothing less than the requisite return to the original, higher-dimensional "Garden of Eden" and the HD androgynous Adam before the inter-dimensional Great Universal Inversion (GUI).
If we take a brief look (at that which we cannot see but all we need to see is one holographic fractal!), i.e., consciousness and reality preceding the GUI we can literally witness streams of the emerging Ohr/Light of the Davidic Messianic Era. Remember, where we are going is from where we came. The Messianic Era is literally a return to 100% Adamic reality/consciousness. Global messianic consciousness is 100% Adam HaRishon (plus even a little bit more!). The Messianic Era is simply picking up where Adam left off on the cosmic, higher-dimensional "Friday afternoon" of the sixth, higher-dimensional "day" of creation. Profoundly simply yet divinely profound almost beyond imagination!
Here I quote from The Secret Doctrine of the Gaon of Vilna, Chapter 2, Volume II:
Due to the fact that he existed in a higher dimension, Adam's original work was of a very different nature than humanity's work today. However, this was not only true of the human level. Before reality collapsed into its present – but temporary – state, the same was true of all animal life. In the Leshem's words:
Before the sin [of the eating from the Tree of Knowledge of Duality] all species of animals were gifted with intelligence and understanding. They also possessed many natural capabilities that Adam [did not possess]; these capabilities would therefore enable Adam to perform all the necessary and relevant activities involved in his rectification work (tikun) of Creation. All of them had complete mental faculties and all of them spoke fluently... In fact, as the Ramchal has written, before Adam's fall all animals were on the level of human beings today.
Adam was to rectify the world by reuniting every aspect of Creation to its supernal root. This involved various activities that we would now describe as the extraction and refinement of raw materials for the manufacture of essential commodities. As the Leshem explains, a crucial role in this production process was played by the animal kingdom:
Even after he was placed in the Garden of Eden, Adam would go out regularly and rectify all the other aspects of Creation. His work consisted of unifying these aspects, via all the activities of production and craftsmanship [that were unique to his higher-dimensionality]. This is what the Holy One meant when He said to him: "Be fruitful and multiply. Replenish the earth and subdue it. Utilize the fish of the sea, the birds of the sky, and every living thing that crawls upon the earth" (Genesis 1:28).

Adam was given permission to utilize all aspects of the mineral, vegetable, and animal [kingdoms] throughout the entire world... With regard to the animal kingdom, he was given dominion over all the biodiversity of life — animals, birds, and fish. As explained by the Arizal, all of these [aspects of the mineral, plant, and animal kingdoms] were originally generated from the holy sparks (nitzotzot) that fell as a result of the Shattering of the Vessels. It was, therefore, Adam's job to rectify and elevate these sparks through all the various activities of production and craftsmanship.
(Remember that although Adam's work is described here (and elsewhere in rabbinic literature) as if it were in accord with our present experience, it actually took place in an entirely different, and unimaginably higher, dimension of reality. Based, however, on the repeating "stamp/imprint" phenomenon [explained there in Chapter 2 and in Beyond Kabbalah: Models], by which the higher reality is successively reflected in exact ratio, (i.e., fractaling) in all lower realities, the sages and the kabbalists were permitted to express themselves in a manner similar to the Torah itself).
The Leshem continues:
As stated in the Midrash, all species of animals, birds, and fish were given to Adam as servants. He was to utilize each one in its respective natural habitat and in accord with the unique powers with which it was endowed. Adam was to utilize all the various animals and beasts, each one according to its nature. This then [as explained above] is the meaning of the Biblical directive, "Be fruitful and multiply. Replenish the earth and subdue it. Utilize the fish of the sea, the fowl of the heaven, and every living thing that crawls upon the earth." "Replenish", "subdue", and "utilize" allude here to the ability to elevate, to transform, and to rectify Creation. This rectification involved refining and elevating all the fractal sparks and shattered fragments that lie scattered throughout all levels of Creation and unifying them back into their Source. This was his great tikun. This is the meaning of the statement of the Sages, "[Mashiach] ben David will not come until all the souls in the 'body' will be completed." These "souls" are the sparks and fragments that must be elevated, integrated, and unified back into the universal "body" of archetypal man – the original Adam. This tikun of all four modes of Creation – mineral, vegetable, animal, and human – was to be completed through Adam.
No lesser an authority than R' Moshe Chayim Luzzatto (Ramchal) has written that, "Before Adam's fall all animals were on the level of human beings today". Moreover, this statement is following a logical symmetry. Geometrically speaking, a dimensional collapse (prolapse) ensued in which the former "human" level dropped one dimension below itself into what was previously held by the "animal" kingdom, the animal kingdom fell into the "plant" kingdom and the plant kingdom descended into the dimension of "minerals". Present reality is now completing the Josephic Messianic Era. Before, however, we can fully enter into the Davidic Messianic Era, each of the four kingdoms of life must return to its original higher-dimensional statue. From the perspective of Messianic consciousness this is, in fact, what we are witnessing (and many of us directly participating in with our dogs, cats and lizards) in the unprecedented proliferation of domestic and exotic pets. In order for Adam's tikun to compete itself (i.e., Adam=Mashiach) the animal kingdom is, in various subtle and in not so subtle ways, quickly regaining its original higher consciousness.
Is the humanization of our pets and in general with all animals, both domestic and wild, simply the misappropriation of projecting and anthropomorphizing our human traits onto animals? Or is it rather that animals are actually becoming more human? Of course, if everything is being notched back up to its next level, what does that portend for us humans? "Going up and all aboard for the next floor". We are witnessing the return of humanity to its original, higher-dimensional angelic-like status of Adam and Eva fully integrated and unified with a menagerie of higher-dimensional, human-like animals (and together with all the plants and all the minerals)!
The Josephic messianic return of higher animal consciousness is real and it is happening all around us. However, like everything else that is occurring in our pre-Davidic messianic civilization, this phenomenon is also coming in through the "back door", i.e., covertly, chaotically and often with negative consequences (e.g., millions of animals are eating far better than millions of undernourished and often starving children). Tragically there is little Adamic Torah consciousness to help direct this vital process. But the first step towards actively engaging in the tikun of the animal kingdom is observing and noticing how, when and where. There are many other examples and manifestations of the revival of messianic animal consciousness. Where else and how else do we see this astounding "sign of the coming of Mashiach"? Send in your comments.
Your comments, questions and critiques are encouraged. Every comment is privately reviewed by Joel. When your comment is posted your email address is never displayed and, if you prefer, you can use any screen name you wish.